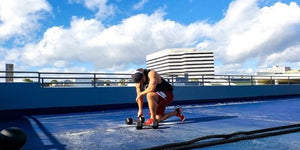 Are You Ready To Make The Shift To Better Health In 2020?
Can you believe it's already 2020? It's the start of a new year. It's the start of a new decade. I have a new website and a new blog, so please stay tuned for a lot of great content to help you with your personal fitness, health and wellness goals. If you are not already following
Shift By Mike on social media
, that's the best way to stay connected. You can also sign up for my email list for updates and information.
New Year's Fitness Resolutions
Speaking of starting 2020 off on the right foot, there's no doubt many of you have made your New Year's Resolutions. So many people decide to use this as an opportunity to get in better shape. Whether you are looking to shed a few pounds, eat healthier or take your fitness regimen to the next level, Shift By Mike is here to help with information, ideas and motivation to reach your wellness goals.
Unfortunately, New Year's Resolutions often don't get kept. Many of us stay dedicated to a new diet and exercise plan for a few weeks and then life gets in the way. Our commitment to the resolution fizzles out, and before long we get back to our old habits. There are many reasons for this. It's really easy to get excited with the start of a new year, especially right after the holiday season where we all tend to get a little extra gluttonous.
Why it's Hard to Stick to Our Resolutions
New Year's Resolutions rarely stick because such big changes can't happen overnight. It's the same reason most extreme diets don't work in the long run. Changing your habits when it comes to health and fitness requires a major commitment. It takes a total shift of your mindset to make long-term changes to your way of life. Most importantly, it takes a plan.
Step 1: Awareness
The first step in truly achieving your fitness goals is awareness. You have to look deep into your soul and realize where your bad habits come from. You can also assess your current physical fitness. We use the InBody machine at Shift By Mike to accurately measure key things like body fat, muscle mass and metabolism. Both mentally and physically, you have to understand where you are at now before you can get where you want to be. This will give you a stronger starting point.
Step 2: Goal Setting
The next step is to set your health and fitness goals. Perhaps you are already in good shape, but you want to keep pushing yourself toward peak physical condition. Maybe your goal is to run a marathon or get yourself in prime condition for a specific sport. Other people may be looking to lose weight, improve muscle definition or increase cardiovascular conditioning. Diet goals should also be important in this stage. If you ever have to say that you are "on a diet," you are destined for failure. When I say diet, I mean making smart eating choices for better health and nutrition for the rest of your life. They say you are what you eat. What you put into your body directly correlates to what you'll be able to get out of it from a fitness standpoint.
Step 3: Planning
The third step is developing a plan that you can stick with. This is often the hardest part. It is also where having a personal trainer and nutrition expert on your side will make a huge difference. It helps to have an objective guide to get you on the path to success. A smart health and fitness plan will not call for everything to be changed at once. It takes time to shift your body and mind for positive long-term changes.
Step 4: Tracking
The last step is honestly the most important one. It is about tracking your results and adjusting your plan if needed. No two bodies are the same, so nutritional plans and fitness regimens don't always work the same for different people. It's vital to keep tracking your progress and seeing where you are experiencing the best results. Then, you can continue to refine your plan and approach to get the absolute most out of your efforts. Seeing results should also keep you more motivated to stick with your plan.
Ready to Make the Shift?
You can't change your life without taking the first steps. This isn't about having a New Year's Resolution. It's about making a New You Commitment. To get started on your journey toward better health, fitness and wellness,
contact Shift By Mike today
. Let us work with you to develop—and stick to—your plan!
---